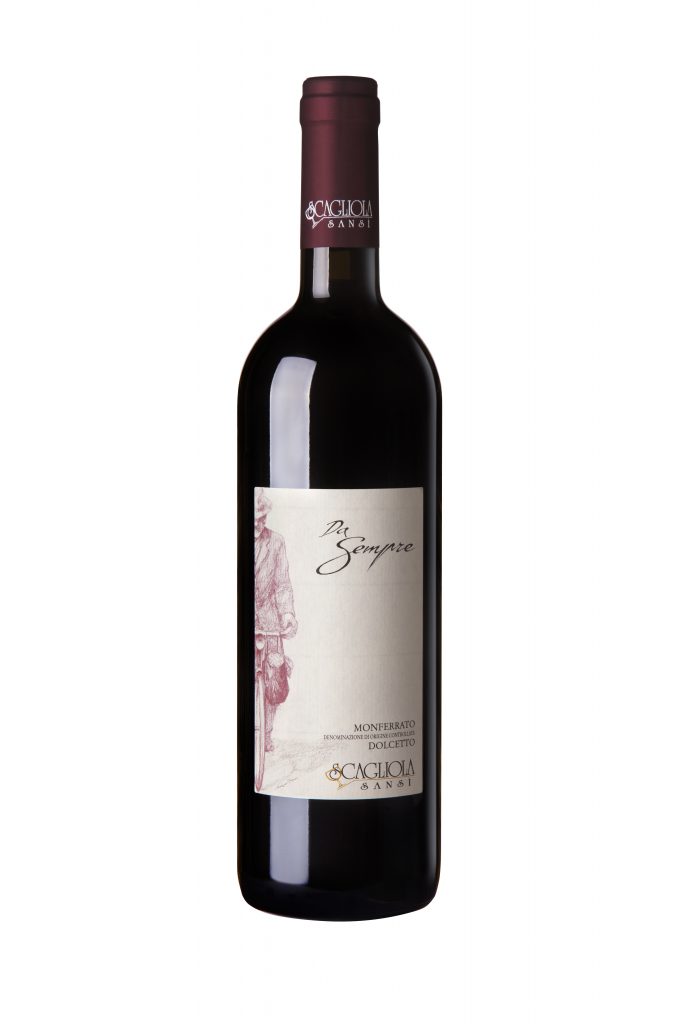 MONFERRATO DOLCETTO doc
DA SEMPRE
GRAPE VARIETY: Dolcetto
SURFACE AND GROWING AREA: 1,50 Ha in Calosso town
AGE OF THE VINEYARDS: 20-25 years old.
VINE DENSITY: 4200 per hectare.
HARVEST: Mid-September, traditional harvest with selection of grapes.
WINE HL PER HECTARE: 63 hl per hectare
NUMBER OF BOTTLES PRODUCED: 6.000
WINEMAKING: Maceration and fermentation take place in traditional way, in stainless steel tanks, at controlled temperature, for about 15/20 days. Malo-lactic can take place.
AGEING: Ageing in stainless steel tanks for about 4 months.
ANALYTICAL INFO: Alcohol content: approx 13,00%Vol; total acidity: approx 5,60 g/l; residual sugar: approx 1,90 g/l; dry extract: approx 26,80 g/l; total SO2: approx 70 mg/l
TASTING NOTES: Ruby red color with quite intense violet hues , vinous; it tends to a good character and fun bouquet, dry taste, pleasantly bitter and with good body.
SUGGESTION: Table wine greatly pairing with starters and first courses. Wine with quite good ageing potential. Keep it in a dark place at a temperature of about 14-16 °C and serve in a medium glass at about 18-20 °C.
CURIOSITY: The term "Since Always" reflects the features of our wine. This "Dolcetto" is a very young wine, bottled in spring, suitable for daily dinning and suitable to be paired with any type of food. Our grandparents have produced this wine "since always" and any occasion was a good one to drink it.